CD/DVD Release Parties!! - SATURDAY - Houston, Tx - SUNDAY - Corpus Christi, Tx!!
I reviewed the album back in March and still am stunned by the music. if you are luck enough to be in Texas over Memorial Day Weekend, then catch this memorable band. Dates below, or follow the links to Del Castillo's site.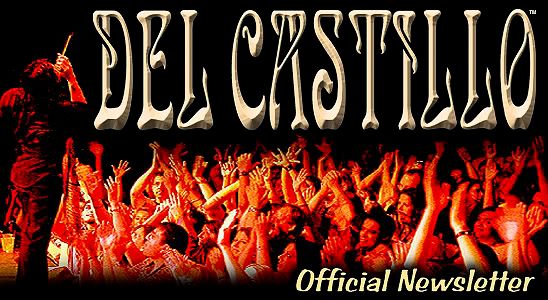 Greetings Del Castillo Familia!
This Memorial Weekend, come celebrate with Del Castillo!!
SATURDAY...MAY 26th.. IN HOUSTON...
CD/DVD RELEASE PARTY IN HOUSTON!!!
For those of you who missed us at the International Festival...
Come join us for another FREE night of music in the Monnalisa Lounge inside the beautiful Hotel Sorella in Houston, Texas!!
Showtime starts at 10 pm!!
---------------------------------------------------------------
THEN...ON SUNDAY...
CD/DVD RELEASE PARTY IN CORPUS SHRISTI, TX!!
It's that time of year again! Del Castillo returns to Corpus Christi for our annual Memorial Weekend Concert, but this time we have a new CD/DVD!!
Come get a copy of "Infinitas Rapsodias"!
LIBRA opens the show!
SHOWTIME IS 9 PM!!

----------------------------------------------
Here's what Critics Are Saying About
Infinitas Rapsodias:
"Infinitas Rapsodias" is a CD/DVD by Del Castillo, who has created a Spanish work of art where Del Castillo's voice and music sits at the perfect point--between romance and sex.
- JSI Top 21 Syndicatd Column
"Outstanding" is an adjective that shouldn't be thrown around lightly, but at every turn on the new album by Del Castillo, "Infinitas Rapsodias," that word keeps popping up in my mind. This ambitious, two-disc set on Smilin' Castle Records by the award-winning Austin band is their fifth release to date, showcasing the collective energy of the del Castillo brothers – guitarists Mark and Rick – and their accomplished fellow musicians: lead singer Alex Ruiz; bassist Albert Besteiro; drummer Mike Zeoli; percussionist Jason Murdy. Their special concoction of Flamenco, Rock, World, Latin and Blues, peppered with the collaborative spirit of Santana, makes for one potent musical cocktail.
Five new songs plus re-vamped favorites are among the tracks here, recorded mostly in Spanish and English in their Kyle, Texas studio. (Because of their world tour this year in support of the album, they even recorded an Italian version of "Maria.") Eclectic guest appearances, such as soulful singers Leann Atherton and Malford Milligan on "Brotherhood," gypsy fiddler Phoebe Hunt on the coquettish "Vida" and German opera singer Anna Maria Kaufmann, who dazzles with Ruiz in a duet on "Amor Venme A Buscar," raise their revisited band standards to new levels of cool. Ever–present classical guitar stylings by the brothers are the common threads that stitch together this patchwork of tracks.
The album opens with "Lumbres De Babylon" – a seven-minute tour-de-force of higher and higher octane playing, followed by a middle eastern-tinged "Fuego Egipcio" with featured guitarist Monte Montgomery. Flamenco piece "Mi Carino" and moving performances in "Perdoname" by vocalist Ruiz, Carl Thiel on piano and Erik Hokkanen on violin are some of the many stand-outs.
A bonus DVD includes the music video of "Canta De Alma," plus a twenty-six minute behind-the-scenes making of the record which clearly captures the band's creative, infectious enthusiasm. Live jam sessions of some of their covers, in particular their slay-you-dead Latin version of "While My Guitar Gently Weeps" will cause endorphin and adrenaline rushes, so listen up and enjoy.
- Janet Goodman, Music News Nashville
"I always write about music while listening to the CD. I couldn't do that with this one. It would be like eating McDonalds French Fries while touring The Prado Museum while reading an Archie Comic Book (all apologies to Veronica). No worries. If you have a brain in your head, if you have a heart in your soul, the music will automatically grab you and hold you. Much more than a 'Latin Rock' band, they are a musical inoculation. One song and you are guaranteed to never listen to Justin Bieber again.
The music on this album is stunningly beautiful, rhythmically brilliant and infectious.…Del Castillo mixes up a sonic soup that is an old family recipe, and man, is it delicious.…Pick this one up and pop it in, you'll become an instant fan. The music these guys create has a passion and energy that transcends any language barriers, cultural stereotypes, or genre, which has resulted in Del Castillo becoming international touring stars. One listen and it's not hard to see why."
- Robert Carraher, The Dirty Lowdown
"Del Castillo's winning points are, well, the whole freaking band. The guitars stand out because they're so prominent, but everyone pulls their weight. Infinitas Rapsodias delivers in every sense. The only way to discuss the guitar play is ferocious. I'm worried my stereo will burst into flames; it's so intense. Songs like (Lumbres de Babylon) would get any audience throwing their hands up, screaming. It will make you want to swing from chandeliers. …if you have any love for Mexican guitar, songs about passion and nature, and stuff you can dance to and cry to, look no further than Infinitas Rapsodias.
- John Powell, Angelica-Music
" Del Castillo is one of those bands you have to see to believe… something like the Gypsy Kings meet Guns N Roses….the acoustic guitar playing is so crisp and romantic — and Ruiz's low, gritty voice (is) so perfectly suited to these earthy jams."
- Chris Jorgensen, Billing Gazette
"…this is a real joy; the sort of passionate material that makes jaded reviewers fall back in love with music. Fresh-faced flamenco; great classics given a new coat of paint; jamming with the enthusiasm of a band that is comfortable together, but years away from feeling tired; and songs full of character and flair. Great stuff."
- Derek Walker, The Phantom Tollbooth
"The music these six individuals create has a passion and energy that transcends any language barriers…"
- The Grateful Web

Download the FREE Del Castillo Android Mobile App
Check out the new Mobile App by Del Castillo. This free Mobile App lets you listen to music, check out photos and videos, read blog posts and get exclusive push notifications straight to your mobile device.

CHECK US OUT ON FACEBOOK & TWITTER!!
Keep up with the action of our live shows on Facebook or Twitter by clicking the links below! You can also now download songs from any of our CDs by clicking on the "Music Store" tab on our Facebook page! If you want a DC Ringtone, click on the "Store" tab as well!



HELP TO PROMOTE DEL CASTILLO!!!
Get the Del Castillo "GRAB BOX"!!

We'd like to invite ALL of our fans, especially our Street Team, to check out all the widgets at the bottom of this email and help spread the word about DC to anyone and everyone you can think of!! This awesome "Grab Box" makes it extremely easy for even the most "computer-challenged" person to post videos, music players, concert calendars, or even press quotes into your website of choice, (Facebook, Twitter, MySpace, YouTube, etc.), and help promote DC!! We truly appreciate the support and love!!

Thank you for all your love and support of Del Castillo!
Paz, Amor, y Musica Latina!!
ReverbNation
Twitter
Artist Website
other
Facebook
> PLAY SONGS
> EXCLUSIVE MUSIC
Share
Retailers

iTunes
Amazon Mp3
Rhapsody
Napster
CD Baby
Insound
Del Castillo
Del Castillo
""…this is a real joy; the sort of passionate material that makes jaded reviewers fall back in love with music. Fresh-faced flamenco; great classics given a new coat of paint; jamming with the enthusiasm of a band that is comfortable together, but years away from feeling tired; and songs full of character and flair. Great stuff." " — Derek Walker, The Phantom Tollbooth
"" Del Castillo is one of those bands you have to see to believe… something like the Gypsy Kings meet Guns N Roses….the acoustic guitar playing is so crisp and romantic — and Ruiz's low, gritty voice (is) so perfectly suited to these earthy jams."" — Chris Jorgensen, Billings Gazette
""Del Castillo's winning points are, well, the whole freaking band. The guitars stand out because they're so prominent, but everyone pulls their weight. Infinitas Rapsodias delivers in every sense. The only way to discuss the guitar play is ferocious. I'm worried my stereo will burst into flames; it's so intense. Songs like (Lumbres de Babylon) would get any audience throwing their hands up, screaming. It will make you want to swing from chandeliers. …if you have any love for Mexican guitar, songs about passion and nature, and stuff you can dance to and cry to, look no further than Infinitas Rapsodias." — John Powell, Angelica Music
The Del Castillo Store

Anybody Wanna T-Shirt
Merchandise
$25.00
view this item »

WIDGETS (Put our stuff on your web pages and blogs!)

Music Player (Pro)


Video Player Widget (Pro)


Show Schedule Widget (Pro)


Press Widget (Pro)